I recently had the opportunity to migrate a small regional office from Hyper-V to VMware by leveraging Instant VM Recovery of Workloads to VMware vSphere VMs available in Veeam Backup & Replication v10. With this latest Instant VM Recovery, Veeam can instantly recover any Veeam backup created by any Veeam product to a VMware vSphere VM. In other words, physical servers, workstations, virtual machines or cloud instance Veeam backups can now be restored to VMware. Veeam even handles the P2V/V2V conversion automatically with it's own built-in logic. How good is that!
To get started, a backup was taken of the source Hyper-V VMs prior to the scheduled outage window. During the outage window, the source Hyper-V VMs being migrated are powered down and the Veeam backup job is run again to ensure all changes to the VM disks have been backed up. Once the backup has completed, the source VM should not be powered on again.
To start the migration process, browse to the backups, right-click the VM to be migrated and click 'Instant VM Recovery' then 'VMware…'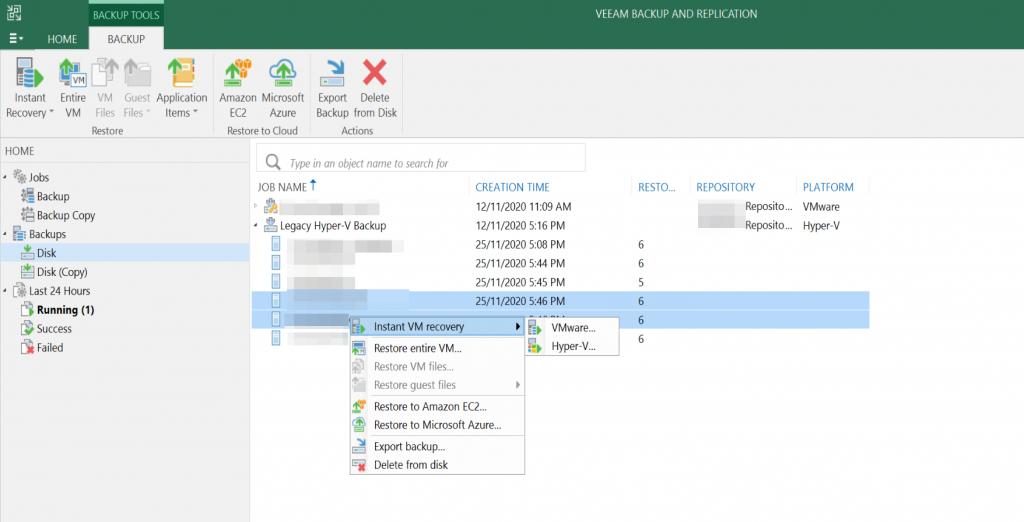 At the next screen, ensure the selected restore point matches the time for when the VM was shut down and the last backup ran.
Continue reading